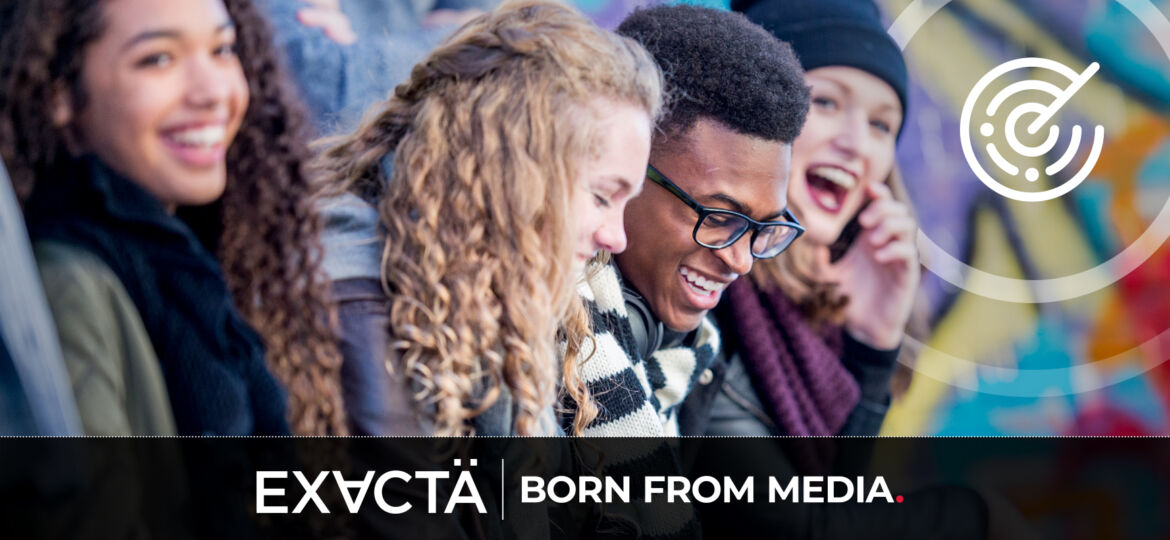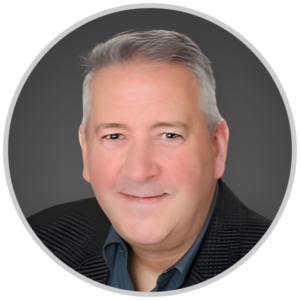 by Steve Fawthrop, VP Agency Growth
Gen Z, those born between 1997 and 2012, at 63 million Americans, this generation now exceeds 20 percent of the total population and, as they age, are projected to be 30 percent of the working population by 2030. With their growth, they have come into their own as a desirable consumer target market and one that will become continually more influential in business.
Gen Z is between the ages of ten and 25, and while that's a huge age range for their life stages, with spending power of about $360 billion, brands are taking notice of this valuable target. Whether Gen Z is old enough to have a job and make purchases on their own, or they are asking for purchases to be made for them, targeting this generation is an important share of the market.
Get to Know Gen Z
In order to target them effectively, it's important to understand a bit more about this rising generation. Here are a few insights from Pew Research that can help shed some light:
Grew up during the Great Recession and has little or no experience with the 9/11 attacks
Half of older Gen Zers lost, or someone in their household lost, a job or took a pay cut during the COVID-19 pandemic
More racially and ethnically diverse than any previous generation
Highly educated; more likely to be enrolled in college and to have a college-educated parent
Share similar values with Millennials on the major issues of today
Shopping Habits
When it comes to their shopping habits, eMarketer found that Gen Z and Millennials share a similar strategy. They go to a wide-ranging selection of resources to gain information about products and do research before deciding, a reflection of their digitally connected lives.
They learn about products through a variety of channels including through their personal social network, online videos and influencers. They rely heavily on people they trust, such as the personal recommendation of family and friends, to drive their product discovery. Social media plays a large role in their purchase decision, with eMarketer showing 46 percent said they purchased a product they saw on their social channels.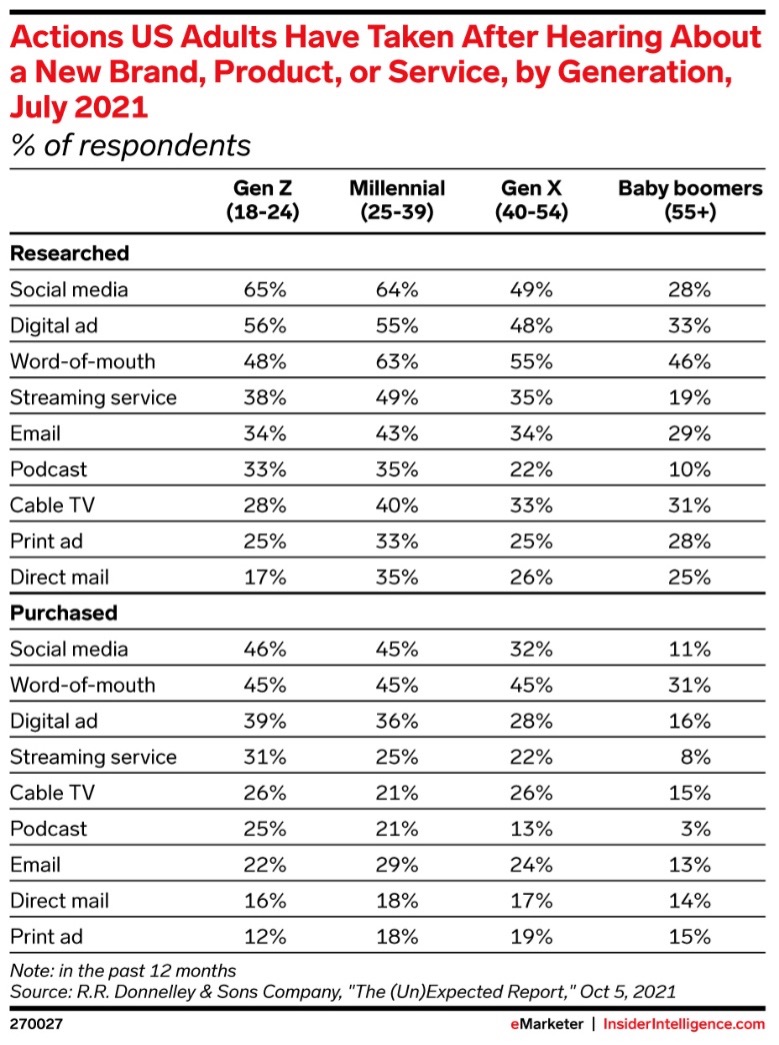 eMarketer also notes that while Gen Z was prone to a hybrid style of shopping before the pandemic, with online research leading the hunt and then an in-person purchase closing the deal, the purchasing step has moved mostly online.
This generation wants shopping to be easy. That means they want it to be simple to research, purchase and return a product if necessary.
Gen Z and Technology—It all starts here
You can't begin to market to Gen Z without discussing their technology and media use. For this generation, technology and media are a main source of information and connection to the world. Almost all of Gen Z is online and regularly accessing the internet, even its very youngest members.
When they want information, the smartphone is their weapon of choice. They use a smartphone for everything: to stream entertainment, play games, connect with their network and complete their purchases.
Snapchat, TikTok and Instagram are the top social networks that Gen Z uses, but they don't limit themselves to just these, and can be found on several networks depending on the specialized experience they seek.
Streaming media is dominant for this group. They watch less traditional TV than any other generation and gravitate more to video-on-demand services like Netflix and YouTube. Additionally, 87 percent reported playing video games weekly on connected devices such as smartphones, consoles and computers.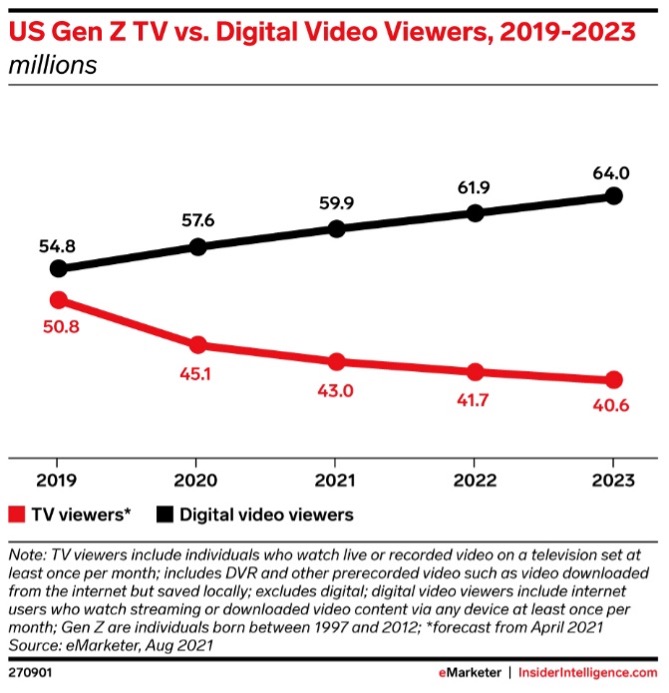 How They View Marketing
Marketers have a lot of room for improvement to reach and influence this generation. AdWeek reported that only eight percent of Gen Z feels seen by marketers. So, what's the deal?
Gen Z are top-notch BS sniffers. From the same study cited by AdWeek, when it comes to marketing, 78 percent are skeptical of commitments brands say they are making on the issues of today such as equity, diversity and sustainability. They also want to make a positive impact on the world, so they'll be loyal to brands that stack up to their ideals and prove their worth.
They also remember when brands screw up. Marketers need to lead the charge in helping their brands own up to their mistakes and to make it right. Otherwise, you'll lose this audience. Authenticity is a major player here, and that means being real about the good, as well as any potential missteps, of the brand.
How Do You Target Them in 2022?
Here are a few tactics for reaching out to Gen Z, and connecting with them in an impactful and lasting manner:
Unique visual content – Not only are they attracted to visual content such as video, they also want it to be unique to the platform they have chosen. They picked a platform for the specialized experience it provides, so it's not enough to create one video and post it on all platforms.
Authenticity and the brand personality – Just like the millennials before them, Gen Z wants authenticity with their brand engagement. This means that they want to see behind the curtain, so to speak. By highlighting the people and process behind the brand, marketers can take that extra step to connect. This also could include sharing your brand's take on a variety of social justice initiatives.
It's recommended to look beyond "brand voice" to a "brand personality" mindset. If your brand were a person, what would they think/do? This will help create a deeper and more lasting relationship with Gen Z.
Be interactive – In addition to seeking out creative brands and marketing, Gen Z likes to participate and engage with brands they follow. Some level of interactivity such as polls, user-generated content (UGC) opportunities, swiping, tapping to select an option or other type of interaction will catch their attention.
Influencers – It's not enough to have an influencer simply promote a product through a generic post. Ideally, your brand would be authentically integrated into the influencer's content and identity. Influencers require their own strategy, and this should be viewed more as a partnership as opposed to a purchased placement.
Timely engagement – If a Gen Z customer makes the effort to engage with your brand, ideally you will reward their interest with similar engagement. This could mean sharing or commenting on clever UGC or promptly offering customer service support to customer complaints. Remember that this is all taking place is a public forum, so other members of your target will be able to see how you respond to your customers.
Sights Set on Gen Z
Marketing directly to Gen Z has become increasingly important as their spending power continues to grow. Brands that want to target this generation will create long-lasting and meaningful relationships by creating content that is visually appealing and unique to each platform. This includes creating a strategy specific to influencers. By engaging in an authentic, interactive and timely way, brands can target Gen Z and start earning their attention and dollars.
---
Does your business need an agency partner? Learn how EXACTA MEDIA can help. We specialize in end-to-end media management from strategy through buy and optimization. Connect with our team of experts to learn more.