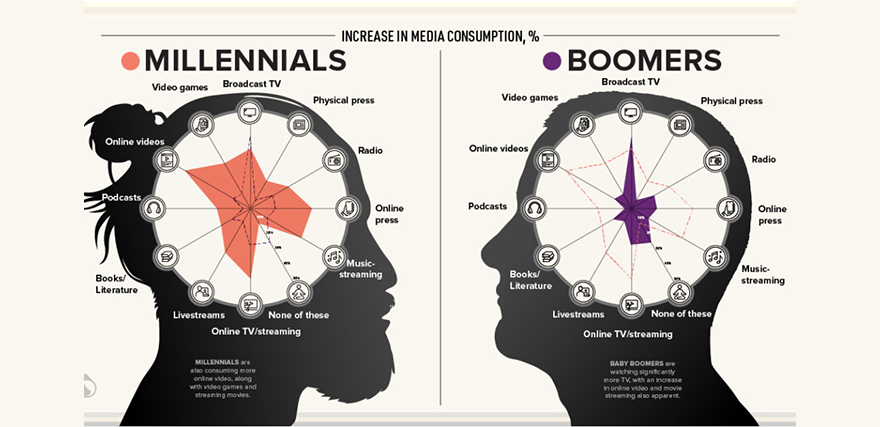 There's no doubt that people are spending more time with content during quarantine. Anecdotally, there's not a ton of options when you're hunkered down at home. Some of us may be binge watching everything we can find on streaming services. Some may be engaging more on social media and using social messaging apps to stay in touch with those we might otherwise see in person. Others may be scouring the web in general for news updates and interest stories. Our media-geared minds wanted to know more! What media consumption trends have been identified during quarantine and by how much has usage/time spent increased?
Television is Turned On
Many of us have turned to television for entertainment. With so many quickly transitioning to working from home, a deathly quiet house can sometimes be even more distracting than a noisy cube neighbor. Having the TV on in the background is a common work-from-home practice. Parents are also looking to occupy children's attention while trying to get work done, or people are simply wanting to enjoy a story or share a laugh.
Tech Crunch covered a Nielsen study that shows in major crises where people are forced to stay home, total TV usage increased by approximately 60 percent. TV was defined as "watching traditional live TV, DVR recordings, video-on-demand and streaming services or other content through any TV set, game console or connected device." When looking at Seattle teens usage after school shutdowns, there was an increase of 104 percent. On a global level, Sensor Tower found a boost in first-time installs of streaming service Netflix of up to 57 percent in some areas.
Staying Social
People are staying in touch any way they can, and that includes via social media. Consumers are spending more time browsing through various social platforms as well as using built in messaging tools to stay connected with family and friends. Kantar released the results of their global survey, and the findings show an average of a 40 percent increase in apps that facilitate messaging such as WhatsApp and Facebook. Not only that, social media engagement increased by 61 percent over regular usage rates.
Looking for News
Internet usage has obviously surged during quarantine. With so many people working from home and accessing social and streaming apps for connection and entertainment, that's not surprising. The constant search for information regarding the virus has had an impact on web browsing too, specifically for news about the quarantine itself. The New York Times reports that readership from nonpartisan sites have all seen staggering increases. Local news sites such as the San Francisco Chronicle, Seattle Times and Boston Globe, and larger news organizations such as CNBC, The New York Times and Washington Post are all trending upwards for website traffic as people are seeking constant updates.
Media Engaged
Media usage and engagement are up! Whether it's live TV, streaming, connected TV, gaming, social media, messaging or simply searching the web for news, media consumption is at a high. With this much demand for content, businesses might consider the best avenues to reach out to consumers. If content is created with sensitivity and with an appropriate message and tone for the time, the audience numbers are certainly there to warrant an exploration of media options.