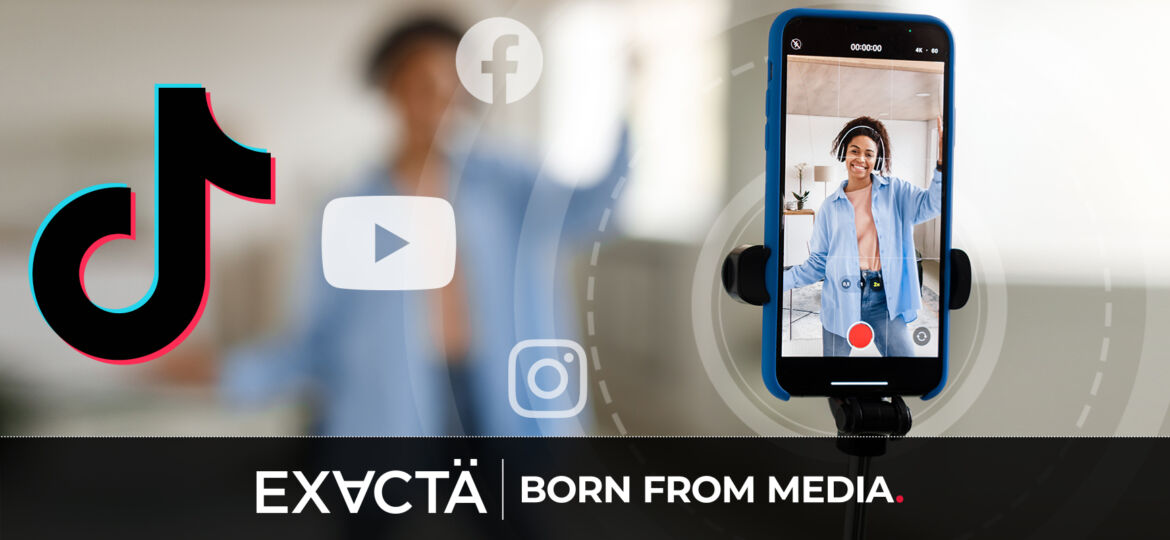 by Jackie Post, EVP Media and Partner
Short-form video is incredibly popular. When it comes to marketing performance, HubSpot shows that it ranks number one for lead generation and engagement. It's also exceptional at reaching a target audience, with 85 percent of marketers saying that short-form video is the most effective format on social media. Plus, short-form video has a 30 percent return on investment (ROI), which is the highest for any social media marketing strategy.
Short-form video lengths vary depending on platform, but usually anything from 15 seconds to 60 seconds is in the short-form zone. However, longer videos (even up to 10 minutes), could be considered short-form video. These bite-sized videos are the perfect way to capture the attention of your target audience. Since so many users are flocking toward short-form video, media platforms are all racing to catch up to TikTok—the prominent leader in short-form video—to capitalize on this trend.
TikTok is pulling rank
It's true that TikTok is still the frontrunner when it comes to short-form video, which makes sense since that's its original model. U.S. adults spend the most time on TikTok per day, at 45.8 minutes, with YouTube incredibly close behind. Since YouTube was already a video platform, it was much easier for it to start accommodating short-form videos.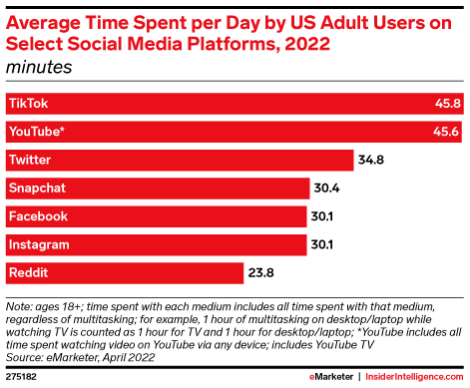 Additionally, TikTok was the most downloaded mobile app in 2021 by quite a large margin, further proving that there continues to be significant interest in short-form video.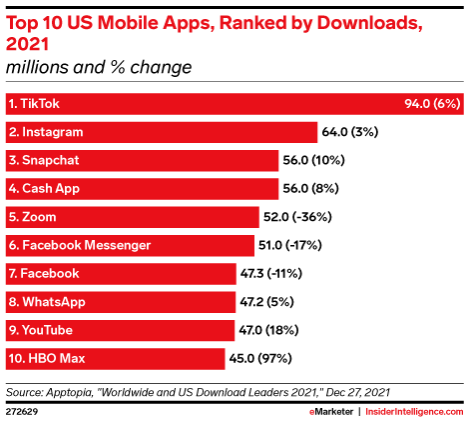 Other platforms are trying to get in on short-form video
Seeing the success of TikTok and not wanting to be left behind, other platforms are trying to create environments that showcase short-form video hosting capabilities.
eMarketer reports that Facebook launched an API to let users post Facebook Reels to third-party platforms. Additionally, Instagram is putting more focus on Reels in an attempt to catch up, but viewers on the platform watch Reels 11 times less than TikTok videos.
YouTube has announced revenue-sharing option for Shorts which will let creators of short-form video participate in their Partner Program and earn a percentage of ad revenue. This is something that TikTok doesn't offer, and which YouTube likely hopes will tip the scale in their favor. This is an interesting approach as it targets creators (as opposed to targeting users), giving them incentive to post to YouTube over TikTok.
Trends for brands that want in
Brands that want to be on top of their game will keep their eyes on short-form video trends, no matter which platform they use to reach their target audience. While it's true that TikTok is the current leader in short-form video, if the target audience isn't on TikTok, it doesn't make sense to post there. So, the best option for brands is to first determine which platform their audiences use, and then create short-form videos for that platform.
Here are some trends we see coming to short-form video for 2023:
Live – Live video is already a trend, so it's just taking that popular format and trimming it down to shorter video lengths. A quick Q&A, product demonstration or snippets of a live event throughout the day are all ways to take advantage of live, short-form video.
Authenticity – In marketing, with social media in particular, authenticity is imperative. For short-form video, this might mean focusing on people or the team. It might also mean behind-the-scenes tours that show how the company works or more about the brand.
UGC – User-generated content (UGC) has been a trend for a while, and we see it continuing. This contributes to the authenticity of the brand as it shows real people interacting with the product or service.
Educational or explainer videos – These are incredibly popular, and they will continue to be into 2023. This can help a brand connect with its audience and will demonstrate the benefits of the product in a quick, easily digestible snippet.
Short-form is here for the long-haul
Short-form video is here to stay, and everyone wants a piece of the action. Just as platforms are going to great lengths to attract short-form video watchers and creators, brands should embrace the format and develop marketing campaigns that include short-form video.
---
Does your business need an agency partner? Learn how EXACTA MEDIA can help. We specialize in end-to-end media management from strategy through buy and optimization. Connect with our team of experts to learn more.