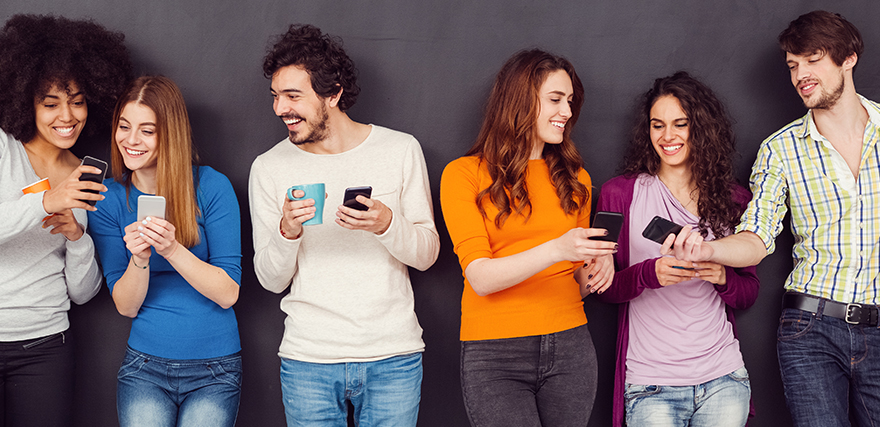 Social media marketing is growing by leaps and bounds, what with Artificial Intelligence taking center stage. As user experience becomes more and more personalized, social media marketers are using AI to provide a holistic and positive customer experience, writes Pritha Bose, Marketing Content Specialist, Aritic.
Back in the day, social media platforms were a fun place where we would share photos or find an event or follow a friend. But connecting with brands or businesses required a proper phone call or to visit their respective website.
Fast-forward to the present date; the scenario has experienced a mega-shift, what with consumers now connecting with brands directly on social media platforms. Studies show that consumers are more inclined towards those brands who are taking the lead in resolving issues real-time and in a thorough manner. Infact, 42% of respondents in an Edison Research Study reported of expecting a reply from a brand within an hour.
A Quick Guide to Social Media Marketing Tools for SMBs
An updated GreenZone, few additional features evaluated and here comes the refreshed Buyer's Guide no SMB can afford to miss!
Chatbots are stealing the limelight in this, by answering customer queries instantly using natural language. This is not just helping in keeping the interested lead in the loop and triggering a sense of priority but is also giving human marketers time to build a better content and social media marketing strategy.
The focus of social media marketing has shifted from mass engagement to personalized interaction. Today, brands have a massive amount of data about their customer base, thanks to big data. Their need of the hour is to engage each lead with relevant content or information. Thus, the primary challenge in social media marketing is to segment this large chunk of data to do targeted content marketing based on lead behaviour and engagement.
While an advanced marketing automation tool is enabling marketers to do dynamic segmentation, social media marketers are all set to leverage the potential of AI in social networking and business branding.
Why do marketers need to turn to AI for social media marketing?
One of my fellow marketers said, "It's because the whos-who of digital industry is doing it". Sadly, that reason is not good enough or does justice to the enormous potential AI has brought in for social media marketers. To get a clear idea, let's start from the start!
You see, social media networks are dominating our lives. We spend almost 80% of our time on these networking sites. What with video-based social media marketing taking the cup this year in terms of consumer engagement on social platforms, marketers are exploring newer ways to connect with their ideal prospects. While all these read rosy, the problem is the huge amount of unstructured social data that marketers have, clubbed with a myriad of social influencers influencing consumers' buying decisions. Marketers are not left with many choices but explore AI-based tools to leverage the full power of social networking.
Quoting Lux Narayan, the CEO of Unmetric, an AI-powered social media metrics company
According to Narayan, there are six core areas where AI is leaving a strong impact on social media marketing; an impact that is hard to ignore in this customer-centric-marketing-era.
Content creation
Consumer intelligence
Customer service
Influencer marketing
Content optimization
Competitive intelligence
There is no doubt that Narayan has himself revealed the reasons why social media marketers are getting inclined heavily towards AI-based marketing and branding.
So, how are social media marketers are exploring the impact of AI on social networking and branding?
Doing data-driven social marketing merged with creative ideas will help you get the attention of your target prospects. And yes, Social media is where you can build your brand image. There are about 3.2 billions of people active on social media platforms. You don't need to shout out to your target audience but let them find you and connect with you on-the-go. The more personalized your social strategy will be, the better will your ideal buyers connect with your brand. So, put your creative hats on and let's get ready for the future.
Machine learning and artificial intelligence are two ideas that marketers are breaking down into bits and pieces to make use. But the essential question is how it will come into use in social media marketing? The answer is social media networking and social ads.
Let's be honest here. Despite various arguments, no other marketing channel has grasped AI better than social. AI defines the content you see, the ads you get, and monitors how you connect with your contacts. This is one primary reason why you should be cautious while building content for social platforms.
Social media giant, Facebook, is the living proof of this. It does not need to optimize the time of the day or do elaborate keyword research, but run an algorithm that is individual customer-specific. When you run an ad on Facebook, you must know that AI is at play in deciding who will see your ads and when and how. Infact, learning to sync your Facebook ads is very crucial for all marketers. Create Facebook ads with your ideal specifications and leave the rest to the algorithm.
I am asking you to believe me blindly. For one, you can test yourself and see. Otherwise, trust this update from Facebook's business news portal where Facebook ad relevancy score is as high as 7 on an average.

What is Ad Relevance Score and why it should matter?
Relevancy score is calculated based on the reviews your brand receives, both positive and negative, to your ads. The more your ad receives positive feedback, the higher is the relevancy score. It is usually defined between 1-10, 10 being the highest.
The sole reason why relevancy score is important is that it helps in reducing your cost of reaching your target audience.
This testifies the fact that Facebook ads, when set up properly, can give you more reach to your target audience and that too lot faster. However, negative reviews can bring down your relevancy scores drastically. Infact, social media is one place where things escalate real fast – be it good or bad. For instance, remember the Samsung Galaxy Note 7 Scandal where the company had to recall all the Note 7 handsets after various reports of batteries exploding. The news spread like fire on the brand's social media page, bringing a 30-point drop in its BrandIndex rating.
Such incidents like that of Samsung's is accidental, but the whole point here is, your social brand image can get largely impacted by a single negative review, giving way to trolls and memes.
Brands can find themselves in sudden nightmares if product hoax stories or product disasters or trolls from competitors make way into social media. Luckily, AI is on its way to curating conversation flows and content to manage such fiascos. Using various filtering systems, AI systems are capable of monitoring millions of user comments across a large range of platforms and predict an emergency long before it occurs in real-time.
Lesson 101: Ethical companies do not usually vet comments that are offensive or inappropriate. When they get intimidation of an emergency spinning up, social media marketers can immediately work to release official statements addressing the impending issues and bringing forth transparency. This not just offers assurance to consumers but uplifts the brand's image. Infact, social media marketers are using chatbots and machine learning to send personalized messages to consumers who raise a concern.
While many argue that AI will take away the human element from the conversation, the reality is a lot different. Bots are adding the much-needed personalization by replicating and automating repetitive functions, allowing human marketers to focus their energy on providing a more holistic and positive customer experience.
Effective social media marketing is a pointer to a brand's strength, and social media followers and conversations are telling metrics of that brand's success.