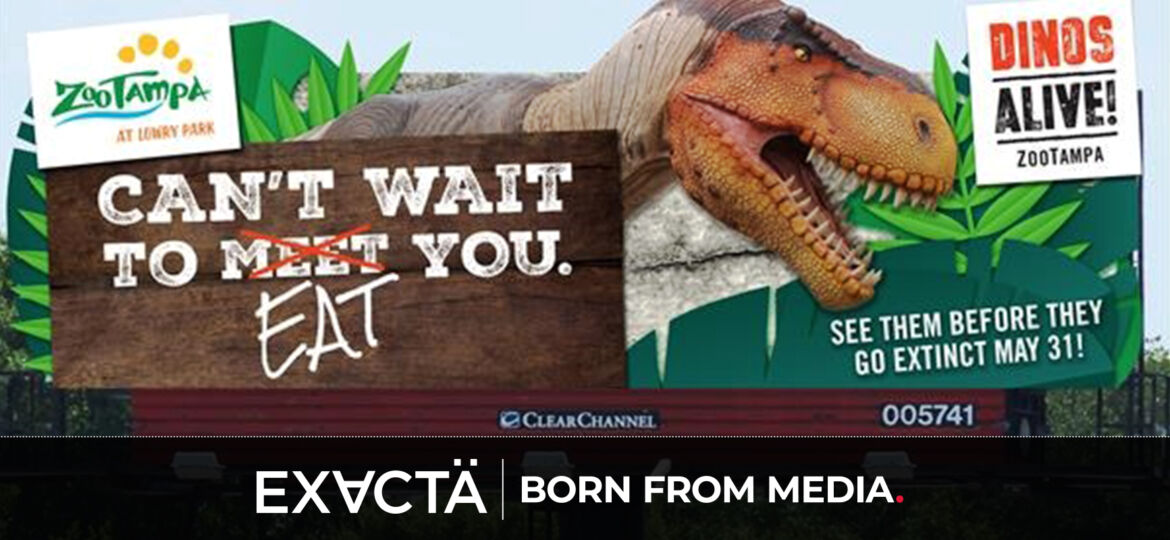 Image credit: OAAA Creative Library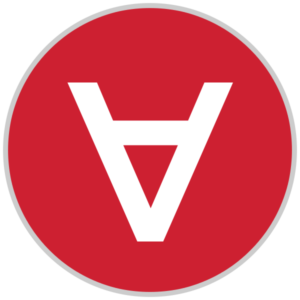 Insights from the EXACTA team
At the beginning of the pandemic, like a lot of other marketing, there was a significant drop in out-of-home (OOH) spend. However, we're seeing a strong comeback rooted in covid recovery and digital innovation.
The state of OOH
According to the Out of Home Advertising Association of America (OAAA) as shared on eMarketer, OOH revenue increased 16.7 percent year-over-year for 2021 for a total of $7.1 billion. Additionally, an eMarketer poll of advertisers showed that 92 percent expect to increase their OOH budgets in 2022. The OAAA notes that top spenders in 2021 included McDonald's, Geico, Apple, Amazon, American Express, Walt Disney Pictures and more.
The OAAA also found that:
88 percent of the top 100 OOH advertisers increased their OOH spend from Q3 2020
51 percent of the top 100 OOH advertisers more than doubled their spend
36 percent of the top 100 increased their spend ten-fold or more
28 percent of the top 100 OOH spenders were technology or direct-to-consumer brands
This resurgence for OOH is in part due to covid recovery and the beginning of getting back to a normal state of life, as well as digital innovation.
Covid Recovery
Progressively returning to a state of normal, many jumped back head on into activities that were unavailable during the height of the pandemic. That includes a return to entertainment (movies/amusement parks/theater/sporting events/concerts) and high engagement services, shopping, moving/relocating and dining out.
These activities are reflected in industries that had top OOH spend, with 2021 showing miscellaneous services and amusements, retail, media and advertising, insurance and real estate and restaurants claiming the top five spots.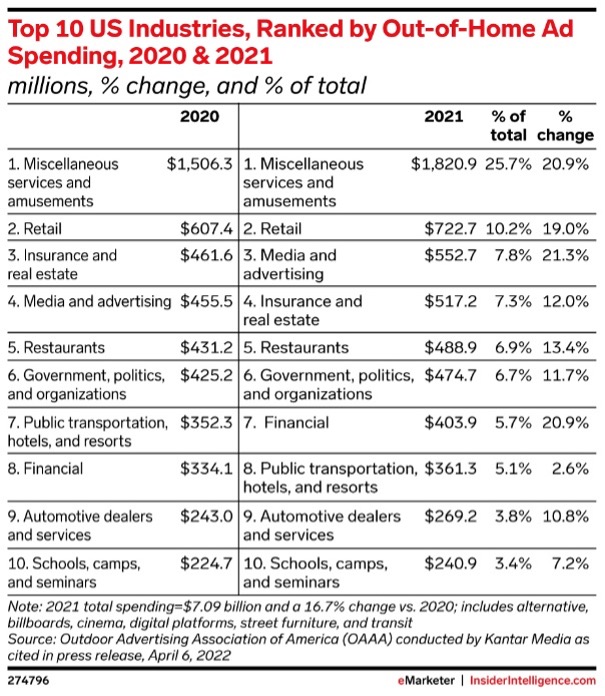 Digital Innovation
Digital innovations are another driver of OOH's comeback.
Back in the day advertisers had to engage with a sales rep, select a location and then design and order creative to be printed so that it could be physically installed in an OOH spot. That isn't the case anymore.
Now, many OOH providers offer digital-out-of-home (DOOH) which is displayed on screens, where an image file is the only creative asset and some even offer programmatic placement. Meaning, a marketer can do everything online through a portal and automation helps with the placement and display. eMarketer predicts that spending on both DOOH and programmatic DOOH will continue to grow.
Another innovation is the ability for interactive content. Screens provide a host of opportunities including being able to integrate QR codes, games, incorporating NFTs and other out-of-the-box strategies.
As shared by the U.S. Chamber of Commerce, interactivity and engagement were key for FreshDirect, a grocery delivery company that tapped OUTFRONT Media's wide coverage in New York City. FreshDirect's messaging was shoppable ads that featured fantastic looking meals with scannable links (QR codes) out to recipes and a path to purchase the ingredients for delivery.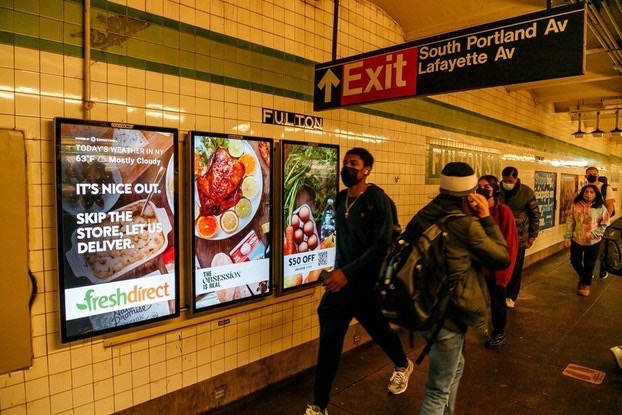 Another example shared by the U.S. Chamber of Commerce of DOOH was a partnership between McDonald's and Waze, the navigation app. When a Waze user passed by an outdoor display, the display would serve an ad to promote McDonald's Dollar menu and the app would pop up an ad with directions to a nearby McDonald's. Waze reported 8,400 McDonald's visitors over eight weeks as a direct result from the campaign.
Not only that, but because OOH isn't skippable like so many other types of advertising today, it has a better chance of connecting with the audience.
A study by Nielsen found that OOH was ranked number one preferred ad format for both Millennials and Gen Z. They also discovered that 25 percent of consumers that see an OOH ad will take a picture and post the image on Instagram. OOH is also highly noticeable, with drivers noticing placements 82 to 83 percent of the time depending on the type of road they are on, and other locations also have significant noticeability.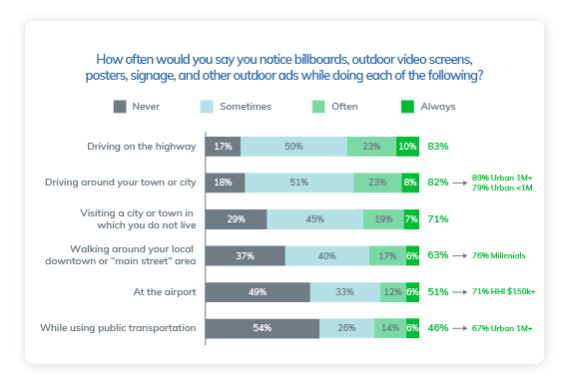 Tracking and Privacy
Privacy has become a growing concern for consumers and brands alike. As marketers try to navigate the fine line between getting enough tracking data to prove ROI while also respecting the privacy of their customers. In this case, OOH presents a unique opportunity, especially with new digital capabilities integrated.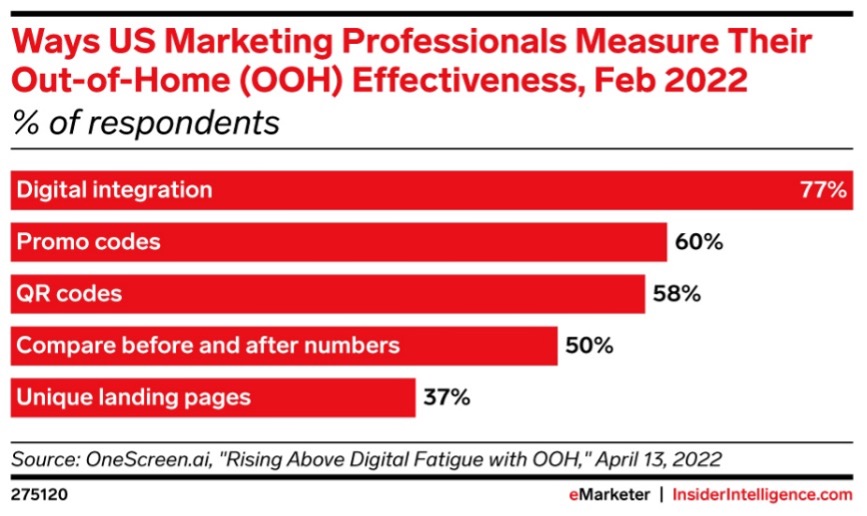 Smart technology can help marketers know general information about those seeing DOOH messaging including number of passers by, average age, gender and other environmental information. However, the DOOH won't collect data as deeply as some other mediums will like with the use of cookies, so personal data like email, phone and search history are protected.
Additionally, marketers can use contextual targeting to help them reach the right target audience. This means that based on the environment of where the OOH placement is located, marketers can purchase DOOH with some level of confidence that they will reach their target, but without collecting sensitive data. A privacy and tracking win-win.
A Steady Comeback and New Growth
OOH and DOOH are seeing a robust resurgence as the covid recovery continues and as more technological innovations are integrated. Programmatic placement capabilities and the continued integration of technology advancements will allow brands to easily reserve OOH space and incorporate experiential tactics into this highly visible marketing option.
---
Does your business need an agency partner? Learn how EXACTA MEDIA can help. We specialize in end-to-end media management from strategy through buy and optimization. Connect with our team of experts to learn more.