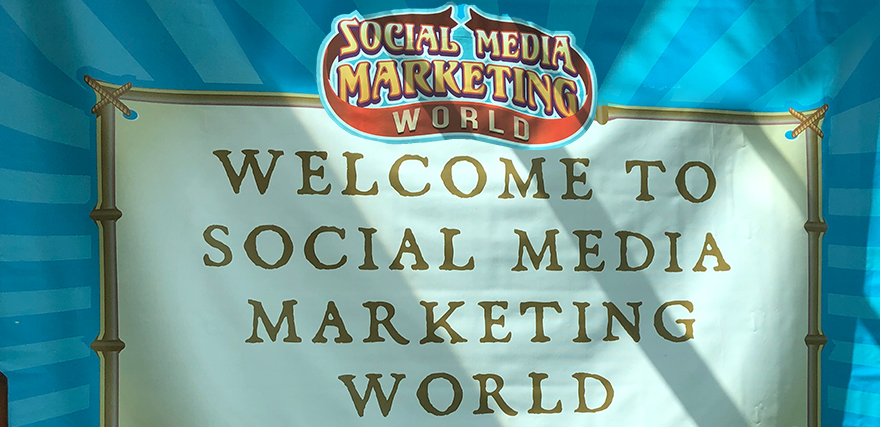 The One Social Media Conference You Should Attend
Jackie Post and I recently had the opportunity to attend one of the largest social media conferences in the country, Social Media Marketing World. Hosted by Social Media Examiner, this conference gives marketers, business owners, influencers, freelancers and avid social media buffs the opportunity to get a birds' eye view of the current state of social media and what is yet to come.  In today's fast-paced, ever changing social world, a conference like this is imperative to stay on top of trends and ensure that your marketing campaigns and efforts are working optimally and set up for success in the future.
"If Content is King, Engagement is Queen"
On Day 2, we had the opportunity to listen to Mari Smith, often referred to as the Queen of Facebook and Forbes' Top Social Media Power Influencer.  This was one of her key statements and really was the overlying theme of the conference as it pervaded through many of the sessions.  Long gone are the days of the focus on vanity metrics and the number of followers you have.  The focus today is on building community and engagement.  Having a smaller following of highly engaged individuals will actually facilitate better returns on both Facebook and Instagram.  Mari stressed several key factors to success in Facebook that included video content and how to best promote it both organically and through paid efforts.  Video provides the opportunity to tell a story in an emotional and relatable way in less than :30.  In fact, she stated that while Facebook's overall mission is to bring the world closer together, their video mission is to create shared experiences and a sense of belonging.  Once again, all leading back to building that strong community.
Mari also highlighted the future of direct messaging and the emergence of chatbots in an effort to create further personal engagement within your follower base.  Apps like Messenger, WhatsApp and IG Direct will continue to gain momentum.  She also teased WeChat as the future all in one chat app to watch for.
Looking at the agenda of daily sessions, the themes and trends were evident through the common topics, which included the use and growth of Instagram, how to understand and utilize Facebook analytics, the use and adoption of chatbots and the hyper growth of YouTube advertising and how to jump in.  While there was something for everyone, these main areas had a related session in almost every time slot which tells you where the future is headed and what the critical trends will be for 2019 and beyond.
Instagram – Facebook's Next Facebook
There was much talk about how Instagram is still in the early stages and seeing reach and engagement at the levels of Facebook in its early days.  The motivation is to get active with this channel, if not already, and really take advantage before some of the regulatory and algorithm changes that have occurred in Facebook trickle down to Instagram.  While there was still a big push into video content for Instagram as well, the focus here remains the use of highly appealing and engaging photography with relevant hashtags that will attract and maintain the right audience for your brand.  According to Jasmine Star, the photos, captions and engagement matter the most.  Your objective with Instagram should be to become highly relevant to a small group of people who are willing to invest in your business.  Make them feel seen, heard and known and you will see the organic growth naturally through engagement.
Another Instagram session focused on building your brand and the best way to go about it.  One hot topic is always how to stay ahead of the algorithms and ensure they don't cause disruption to what you have spent time building.  The algorithms look kindly on early adaption of new features such as Carousel posts, IG Stories, IG Live and IGTV.  By incorporating this multi-faceted approach into your social strategy, you can increase organic reach while gaining a competitive edge.  When curating content through all of these features, it is critical to use the power of curiosity and leave your followers asking them a question that makes them want to engage further with your brand.  Again, as with the general theme of most sessions, the idea is to worry more about the depth of your followers, not the width.
Communication is a critical part of success with Instagram and Direct Messages are the ideal form of personal connection and engagement that can facilitate the highest levels of growth over time.  Not only is it important to engage with your followers via DM, it's important to put the right type of content in front of them that speaks to what your brand is conveying and ultimately what they want to hear.  While not all of us are designers, there were several great sessions about easy ways to adapt and create videos or animated gifs without having to hire a full production crew.  Some of the latest apps that were highlighted included some of the following.
Easil-IG Story templates (multi-template), GIF maker
Headliner-Turn audio into video-10 videos per month for free
Giphy-Create and edit
Wave.video
Clipomatic
Quicc-In beta mode but open to SMMW attendees
Over (good app design tool), Slider (animated video tool), Life Lapse (stop motion graphics)
New Ways to Improve Facebook Marketing
While Facebook has been around much longer, there were still some key elements of Facebook that were highlighted in several of the sessions.  As mentioned above, chatbots were a hot topic of several sessions.  Our goal was to really gain more knowledge of chatbots and how they are being used or potentially used for clients like ours.  One session focused on chatbots for integration with Facebook Messenger and how they can be used for customer service to improve the overall experience but also to engage new customers by allowing an easier, instant way to communicate with a brand.  Depending on where a customer is in the funnel, different tactics and messaging can be utilized through automation.  In addition, messenger communication allows for an alternate means of contact instead of a standard email or phone.  Getting into a chatbot platform allows teams of any size to add this capability to their social management for paid and organic efforts.  Watch for the adoption of chatbots to really take off this year as brands look for alternate ways to reach consumers.
Another session focused on the key elements within a Facebook ad that will draw engagement and elicit the action you are looking for in a given campaign.  While we mentioned the critical importance of video above, it is estimated that video will comprise 70% of content this year while photos will make up 20% followed by links at the other 10%.  As most marketers are familiar with the Facebook 20% rule, it is more important than ever to try and avoid text within the video or image as it instantly screams that it is an advertisement as opposed to an engaging piece of content.  How you write and focus the supporting text is where you can really leverage the use of text but keeping the graphics clean will be an important part of a campaign's creative success.
YouTube – One of the top 3 Fastest Growing Social Media Channels
Another great session I was able to attend was on the creation of a full funnel of customers through YouTube ads.  Brett Curry from OMGCommerce presented some facts and best practices for YT advertising and how to get started, if you aren't already active within the platform.  If you are trying to reach the coveted 18-24 audience, 96% of them are active on YouTube while 95% of the 25-34 audience are actively engaged.  The top 3 mobile apps among Gen Z and Millennials are YouTube (fastest growing), Snapchat and Instagram.  Needless to say, if you are actively looking for this audience, YouTube is usually where you will find them.  In addition to the younger audiences, research shows that the number of consumers searching for terms around the "best products" shows they are open and willing to do the research before making a purchase.  YouTube is an integral part of this process and should be used to complement brand searches as part of the marketing strategy.
While most of us are used to seeing them, the ads that play prior to a video selection, or TrueView ads, are the most common and best use of budget as Google doesn't charge for ads that are skipped or not viewed for at least 30 seconds.  The biggest question is what is the best strategy for YouTube to get started?  Brett's recommendation was to start with remarketing campaigns.  Use the channel as an additional touch point for customers who engaged but didn't complete the action.  From there, you can begin to gain learnings and start prospecting campaigns as the next step.
Overall, there are 3 key elements to building profitable scale with YouTube.  These include the right video, the right audience and the right campaign structure.
Summary
Overall, the knowledge base and overall energy level of the conference was incredible.  It was refreshing to be surrounded by so many bright people who were all looking out for each other's best interests and ultimately, finding ways to make social media work for them.  While we would have liked to see the sessions outlined and leveled from beginner to expert to give us a better sense of which ones were most relevant to us, the majority of them provided us with a great baseline of initiatives and ideas to bring back and start executing on behalf of our clients.  While we are members of Social Media Examiner and regularly attend their webinars, attending the show in person was an experience I think both of us found incredibly beneficial and look forward to attending next year.