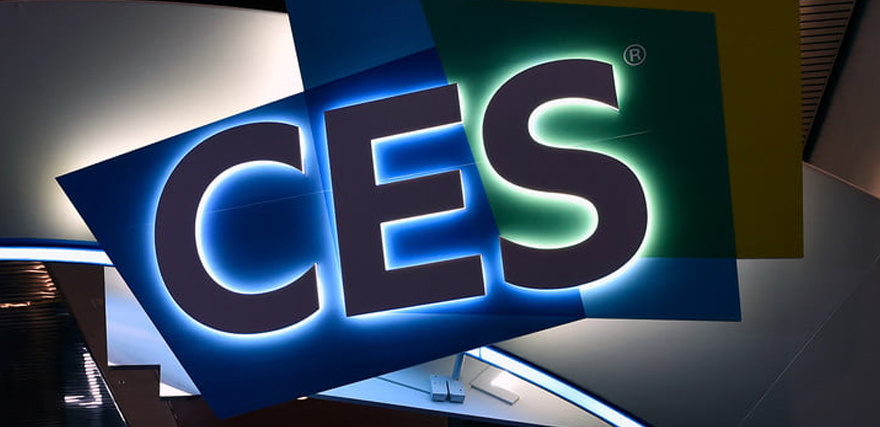 CES 2019 is a wrap!
Frank Flores | January 21, 2018
It was the first time after many years of hearing about this show I was able to take some time to meet with customers and see the show first hand. To say I was overwhelmed and impressed with the size, scope and innovation would be an understatement. Not too many things shock me these days, but I must say this was a show worth seeing. The largest tech giants in the world all throughout Vegas (minus Apple, of course) demonstrating the latest and greatest tech has to offer with a glimpse of what will be in the not-too-distant future.
Mobile Front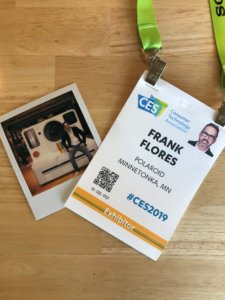 On the Mobile front I attended the show as a Consultant for Polaroid Mobile, where I met with previous Alcatel trailblazer and current Polaroid Mobile CEO, Rayford Higginbotham, to get a first-hand glimpse of what Rayford and company are about to drop… a game changing device with some amazing tech in 2019 and I can't wait to see it! The product itself is elegant, and as they put it, "ties in the things that matter to us all." Human connection… brought to you through a Polaroid lens reassembled for the 21st Century. It is a must-see and must-have phone if you are really into social sharing.
After I met with the folks at Polaroid, I was able to venture into the great Wild West otherwise known as CES. Interestingly enough, I learned this show used to be so small it would split time with the AVN Awards (and if you don't know what that is… well, you might want to jump off this post and look it up). This little nugget of information to me was unfathomable all things considered, but interesting none the less.
Innovation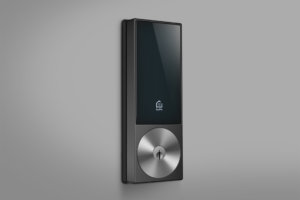 At the show there was an endless amount of innovation brought you by almost 4,500 exhibitors and almost 200k attendees from around the globe. And when I say around the globe, I mean around the globe, with an entire section at the Sands Expo dedicated to tech by country. This was also the same venue that boasted a lot of new and even duplicated tech that new entrants to the market were pushing. At times I could not tell if the companies were actual brands themselves or if they were selling private label products or both. It was great, however, to feel the entrepreneurial spirit that comes with fresh, or re-polished ideas and materialized into a show that is selling a dream.
A couple concepts in this area were KeyWe, a wireless key lock that I felt was slicker than others and had some cool innovation that I thought would do well in the American market. However, it will be competing with some big players including Amazon Key, that has some really nice locks and ties in with Ring. That being said, there is a big market for this type of technology. There are millions of homes out there and long term they will all be on key less devices.
Too be honest there were too many concepts of baggage locks, wireless thermometers, revere cameras, helmets with lights, watches or wearable devices and gadgets to try to keep up with. Yet, an off-shoot idea that I thought was great was a wristband company that could use radio waves, not GPS, to track their friends' movements at festivals. I don't know about you, but boy do I remember those long-lost nights out with friends at a big venue before cell phones even existed and I just got lost only to find myself wondering around for hours to find my ride home… ah, college, the good o'l days. This seems to solve that problem however I don't see much scale there other than for festivals and maybe amusement parks for parents with kids that don't have cell phones. However, I do see some scale for all of the connected Healthcare tech that seems to help people track their overall health better or monitor your aging family members health right from your phone. Lots of really cool devices just too many to list on this post.
Mind-Blowing Pixelization Experience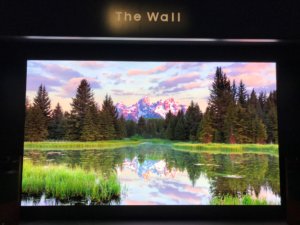 LG and Samsung had some of the most amazing TV experiences I have ever seen. Bar none these two are leading the charge with Samsung vastly ahead of everyone with their "The Wall" 219 mega pixel end-to-end no seem television. The picture quality and brightness were unreal, but closely matched with LG's entrance into the show, that boasted wall-to-ceiling televisions putting you in the middle of jungle, ocean and space all at the same time. To say that was an experience would be an understatement. It was not only riveting it was just beautiful to watch.
8K seemed to be the next frontier which I found interesting considering that most people I know are mainly non-technical and have not even adopted 4k. Also, there isn't much content to support it at this time, with the first event being live broadcast in 8K being the upcoming 2020 Olympics. That being said, you have to imagine with the technology developed, and after the Olympics planned broadcast in 8K, everyone will soon be jumping to provide 8K content. If you're investing in a TV over the next year, it might be worth it to preemptively make the jump and skip 4K so that you're ready for all that 8K content. This just shows you how fast things are moving as 4K will soon be a thing of the past before it even started. Either way it was awesome to see and as the title states a mind-blowing pixelization experience.
The Thing I Liked The Most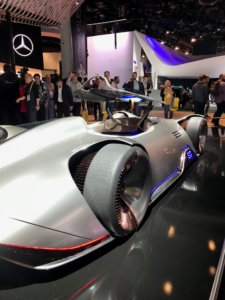 The things I liked the most were the car concepts by Samsung, Mercedes Benz, KIA and Audi. All were super futuristic with Samsung's vehicle concept of the future being interconnected and AI operated. Panasonic also had a great booth with connected vehicles and human diagnostics which I found super interesting. But, of course, Bell's depiction of the future with their four passenger Electric Helicopter was straight out of Minority Report. This concept demo was absolutely a beast and real glimpse into the future of clean air and massive transport in minutes. This is not only going to happen, but I can only hope to be here when it does and experience this ride with my kids.
Finally, out of all the things I saw, my biggest passion was seeing Panasonic's best innovation the Technics SL-1200 MK7 and the DJ that brought down the house with his set using these gems. I have always been in purist of my music and it was great to see a classic come back with a new twist.
The Thing I Liked Least – Loss of Privacy
Believe it or not what really stood out to me at the show and was substantiated by a 60 Minutes interview this week was Artificial Intelligence. I have said on multiple occasions now that tech and the advancement of AI has already surpassed where humans of today can comprehend the magnitude of what is being created.
AI is automating everything and in the next five to 10 years will be in the mainstream making decisions for humans before they can even think for themselves. Alexa, Google Home, Watson and now Bixby are in a race to know anything and everything about human personas, interests, and behaviors and this is where I take issue. Nobody asked me if I wanted them to take my privacy they are just taking it. Especially those that scan your face and information without you giving them permission. Yes, it's cool that Alexa can wipe your behind with an intelligent toilet by Kohler, start your shower, car, order your food and manage your schedule. But how many people are that busy and really need this to have a fulfilled life? It's wild?
However, the thing I found the most troubling were the AI robots and I am a firm believer in what Musk has to say about AI falling into the wrong hands. This is not just a fairy tale, this is real and was probably the most profound takeaway of the show, as I do not see any way of stopping this from moving forward. The question is will Congress and Legislators act to prevent our privacy from being stripped from us one device at a time? Only time will tell.
A Marketers Perspective
As a marketer, I have to take a step back and recognize the significance of so many IoT connected devices to the industry. While these make me uncomfortable in my personal life, they're here, and people are adopting them and using them to search for information. Marketers need to start considering voice search in their efforts. Something like a Google Home or Alexa will only read the first entry in a search out loud. So, being the top search result will become increasingly important in the upcoming years. Think to yourself, if I were going to ask this question out loud to an IoT device, how would I phrase it? Make sure those keywords are included in your buys and content. We also can't forget AR/VR tech. There were several demonstrations, including some that claim to reduce motion sickness in the environment.
Many marketers have already started thinking about AR/VR technology, and will keep pushing the envelope here. We need to determine how our clients can integrate seamlessly into IoT and AR/VR systems. What value can they provide to support their brand message and products and how can it be provided in a non-intrusive way to the end user?
Takeaway
I am firm believer we are at the end of an analog era and everything moving forward will grow a lightning speed in a digital driven world. That said, I think Marketer should go to the CES show at least one time in their life. It is not only fascinating, you need to see how tech is shaping our current culture and is going to change the future globally. Just imagine 100 years ago we were barely getting around in clunky vehicles, and had phones connected by live operators, and 100 years from now mankind might be driving solar powered electric vehicles to and from Mars. This is no joke….in the past ten years alone we have evolved so much. The show, like I said, is mind blowing and to think after two days I barely got through maybe half of it is astounding. I will head back to CES from this point forward not only for inspiration as a Marketer, but for pure curiosity on what is in store for technology advancements.
Cheers!
Frank Flores is a Managing Partner at EXACTA | BORN FROM MEDIA.