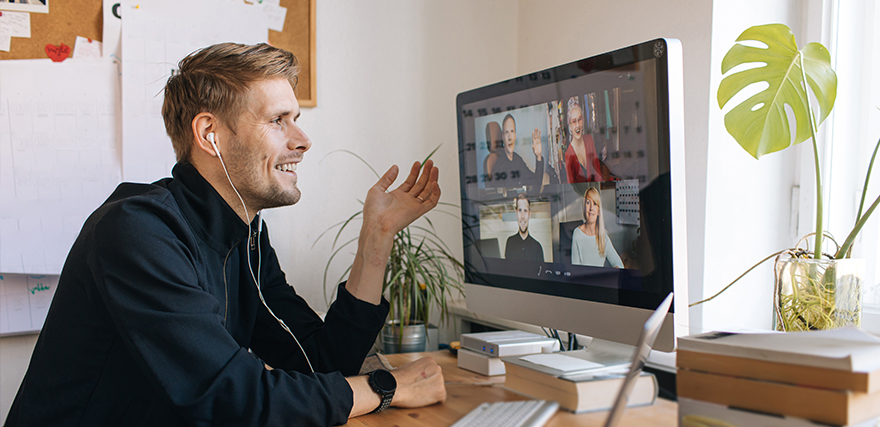 As the U.S. slowly begins to reopen, there are many insights to be garnered from how the pandemic shaped marketing over the last year. From an almost automatic shift to online communication, to the change in how people started to consume media, some of the trends that emerged due to the pandemic along with others that were already on the rise, will continue to be relevant and define marketing this year. Here are a few ways in which marketing will evolve through 2021.
CTV consumption – Connected TV (CTV) skyrocketed during the start of stay-at-home orders, with total hours shooting up to 81 percent over the previous year. Nielsen reports that CTV consumption will likely stay above pre-COVID levels even as things begin to open again.
Work from home – Work from home for certain industries may continue even after the pandemic is over. Employees have become accustomed to the lifestyle and about 59 percent of those currently working from home have expressed the desire to stay that way. At the very least, we may anticipate a hybrid model as we ease back into work life after Covid. This is important to note as this will also affect media consumption, as people may keep media on in the background while working, or be able to relax on their couch to catch up on their favorite show during lunch.
TikTok – The social media platform was already on the rise, but the pandemic catapulted its popularity and it's not surprising that they are now in the advertising game. The app trailed YouTube by just two minutes in per-day consumption, with TikTok hitting 95 minutes per day and YouTube leading at 97 minutes per day. TikTok will continue to be a major social media player moving forward, and with advertising capabilities added, brands that want to reach the TikTok target market need to include them in their media mix.
Privacy – Privacy concerns will continue to be a focus of this coming year, especially with the launch of Apple's iOS 14 privacy changes. Apps like Facebook are already trying to figure out how the new permissions prompt will affect their targeting, and we should expect some bumps as marketers dive in to understand tracking and targeting with these changes.
Virtual and hybrid events – Marketers will need to consider how they'll advise their clients to re-enter any in-person activity. Depending on guidance in the area, virtual events may continue for most of the year, or there may be an opportunity to offer small group events. Marketers may want to consider a hybrid option, where some are able to come in person while others can join online, making sure that there is a comfortable option for everyone that wants to participate.
Smart speakers and voice search – It's estimated that almost 90 million U.S. adults already have a smart speaker, and when coupled with mobile devices, about 72 percent of U.S. consumers have engaged with some type of voice search. Continued adoption of this technology is anticipated, so marketers need to be acutely aware of how people are asking for information through voice options and make sure that search marketing efforts include voice search consideration.
Lead the Evolution
As we ride the curve out of the pandemic, some marketing trends that developed due to Covid-19 will continue, as will others that were already on the rise. Marketers that want to lead the pack need to stay on top of trends, gain insights and apply those to their strategies moving forward. This is particularly true this year as things are rapidly changing due to the pandemic, and those fluctuations could cause huge ripple effects through any marketing strategy.