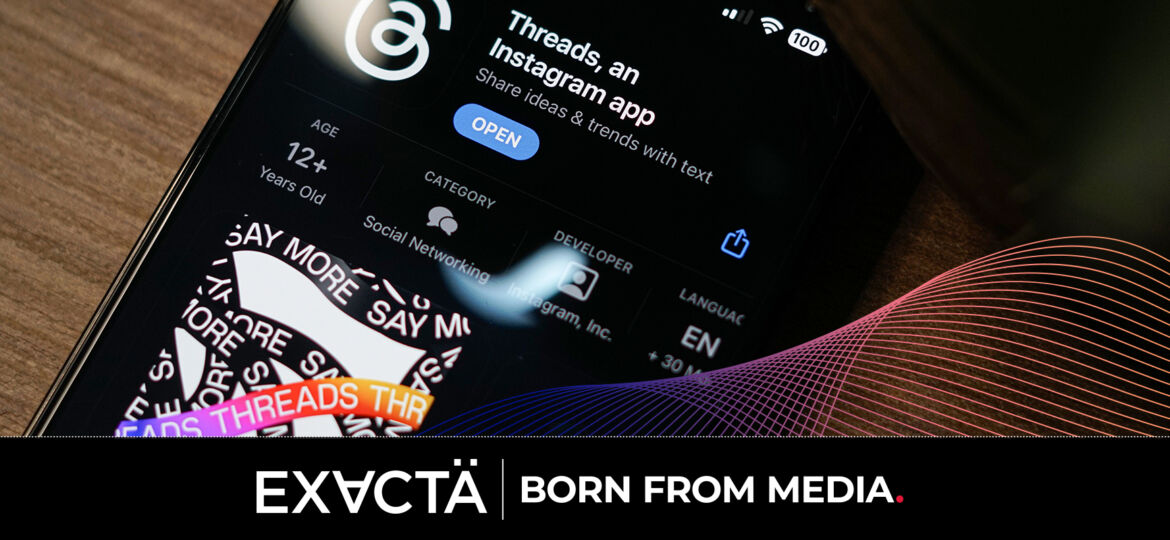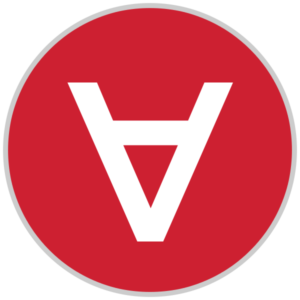 Insights from the EXACTA Media team
Meta just launched its new text-based app, Threads, and the social media world burst into a frenzy of excitement and investigation. The Facebook and Instagram parent company is obviously coming after Twitter, which has been experiencing some backlash from the numerous changes being made by its new owner, Elon Musk.
So far, the new platform is making an outstanding showing, already reaching 100 million sign-ups, and causing Twitter's traffic to fall 5% on the Thursday and Friday after its launch.
So, what is Threads, how do you get an account, what are the main differences between it and Twitter and what does this mean for advertisers?
Let's take a deeper dive into what we know so far.
What is Threads and how to get an account
As mentioned above, Threads is a text-based social platform. Users can share posts in real time, and integration with Instagram allows users to then publish Threads directly to Instagram from within the app if they want. Posts can also include photo, GIF and video content up to five minutes long. It's tied directly to Instagram, so users can simply download the app and use their Instagram log-in and password which automatically populates.
Once logged in, the setup process asks new users if they want to follow the same accounts from their Instagram. This is a shrewd move by Meta, and it makes establishing an account that delivers an immediate tailored experience incredibly easy. While there are several Twitter alternatives such as BlueSky and Mastodon, Meta is offering its enormous base of Instagram users a simple alternative to Twitter. It also keeps users within the larger Meta ecosystem with the built-in sharing capabilities across Instagram and Threads.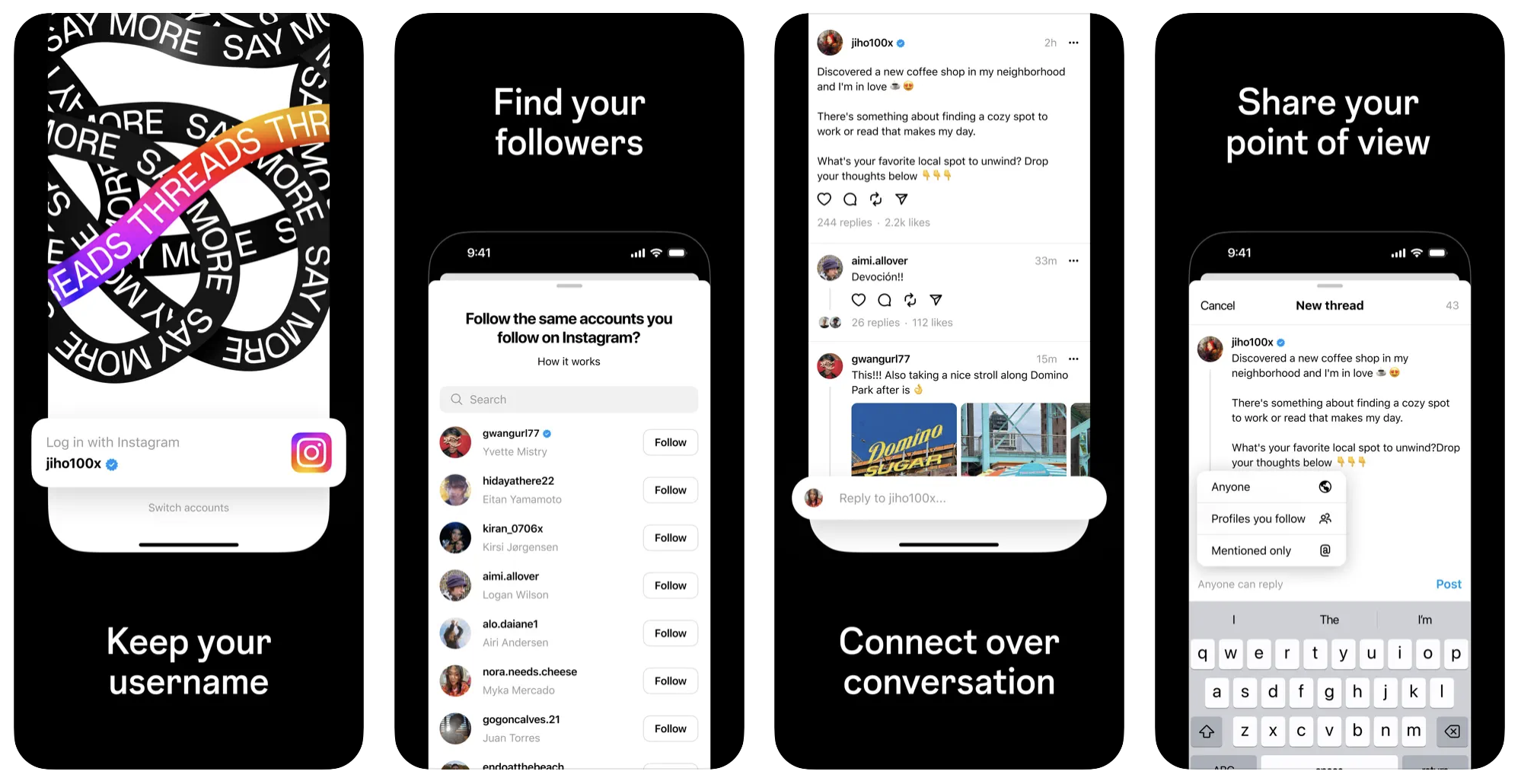 Image credit: Meta
What's different from Twitter
There are a few main differences when it comes to the way Threads and Twitter operate. Here are some highlights which users might find important:
All one feed – Threads serves one feed which users can scroll through and see all updates from accounts which have been followed as well as trending posts. Twitter has a two-feed structure, "For You" and "Following," which requires users to toggle back and forth to see only posts from accounts which were followed or trending topics.
Character count – When Twitter first started, it had a 140-character limit per post, which the platform has since revised to 280. Threads provides users up to 500 characters per post.
Hashtags – Twitter is almost synonymous with hashtags, which allow users to find and contribute to the online conversation regarding a certain topic. Hashtags are not searchable on Threads (yet), so while users can include them in posts if desired, it doesn't create the same conditions for trending topics. This could be seen as positive in preventing a negative environment within the platform, while others might feel it diminishes the ability to participate in conversations as an online community.
App only – As of right now, Threads is only available through the app, while Twitter is available through both its app and website.
Must have an Instagram account – For users to participate in Threads, they must have or create an Instagram account. Twitter is a stand-alone platform and isn't tied to any other apps.
Items per post – Twitter caps the number of images or multimedia items users can share per post at four, while Threads accommodates up to 10.
No editing – Just recently Twitter added the ability to edit posts for premium (paid) users. As of right now, Threads does not offer a way to edit posts.
What about advertising on Threads?
As of right now, there are no ads on Threads. There are ads on Meta's other social channels (Facebook and Instagram), so advertising might be in the cards in the future. Mark Zuckerberg responded to a Thread about monetization saying, "Our approach will be the same as all our other products: make the product work well first, then see if we can get it on a clear path to 1 billion people, and only then think about monetization at that point."
If you're an advertiser that wants to connect with your audience on Threads right now, this means you'll need to sign up for an account, develop a strategy and create content to post. No paid options are available at the moment.
Wild speculation on what could set Threads apart from Twitter
One thing that could set Threads apart from Twitter and tip the scales in Meta's favor is if the company decides to revenue share (like YouTube) for creators. Celebrities, companies, organizations and creators alike currently provide valuable content on Twitter for free receiving no piece of the pie. Many celebrities have noted that they want to connect with fans but feel frustrated that Twitter stays afloat on their unpaid participation and engagement with users. It's a big reason why people are on Twitter.
There was outcry when Twitter announced that users would need to pay for verified accounts, throwing those with big follower bases into the unpleasant decision of having to pay for securing their identity, or risk scam accounts taking advantage of fans or misrepresenting them.
Revenue sharing might entice celebrities/creators/businesses to leave Twitter in favor of Threads, in which case followers of those accounts will likely leave the blue bird as well. This would likely not be able to happen until monetization and advertising are in place, and there has been no hint from Zuckerberg if this is on the table. The revenue-sharing approach presents its own challenges but would certainly strike a huge blow to Twitter's user base if Meta's goal is to take out the competition.
Pull that Thread
We're still learning about Threads, what changes might be coming in the future and what marketing strategy will best help advertisers authentically connect with target audiences on the new platform. One thing that we do know is that Meta is coming for Twitter, and unlike the other text-based platforms that have been trying to carve out a place in the social media fray, Threads has a built-in user base from Instagram.
With such easy setup, cross posting capabilities and development from a company that already has two incredibly successful platforms, Threads is likely to give Twitter a serious run for its money. Only time will tell how this plays out, and we're keeping an eye on this new entry into the social media landscape.
---
Does your business need an agency partner? Learn how EXACTA MEDIA can help. We specialize in end-to-end media management from strategy through buy and optimization. Connect with our team of experts to learn more.