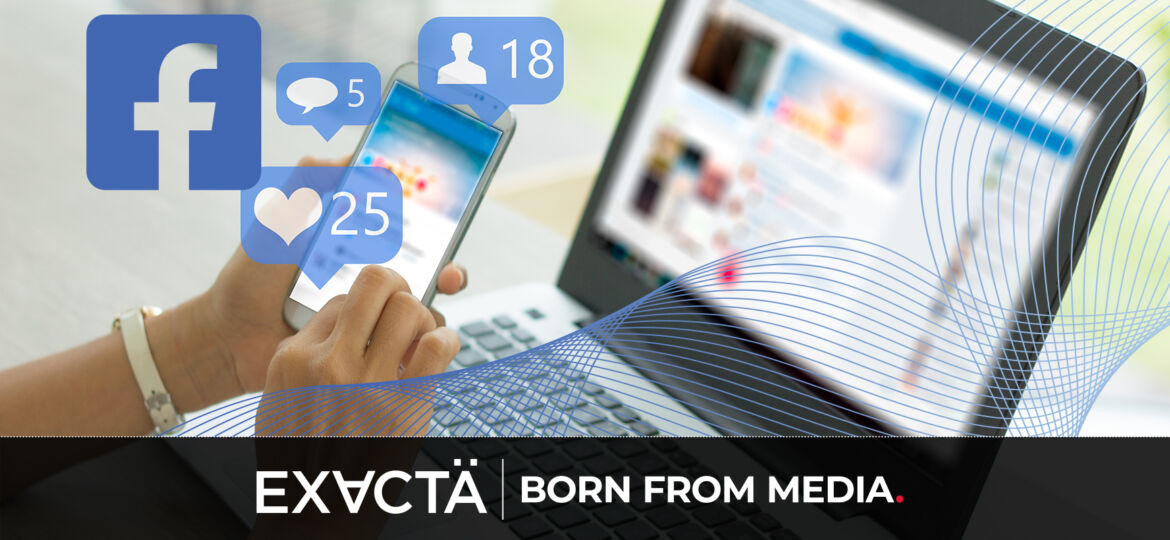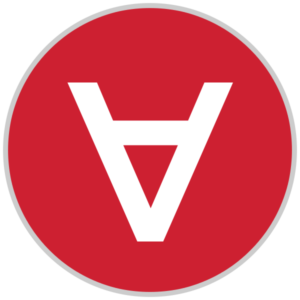 Insights from the EXACTA Media team
Finding the right paid social strategy mix is important to the success of any social media marketing campaign. With so many platforms to choose from, it's vital to dial in which social options perform for your specific brand to ensure the best return on investment (ROI). Here are a few insights to keep in mind about the current social media landscape.
Improvements and changes with Facebook
You can't talk about paid social and not address Facebook. The social media platform is the most popular worldwide with 2.9 billion active monthly users. Because of its popularity, paid social strategies will frequently have some type of placement with Facebook.
After the most recent iOS update, Meta is making improvements through their Performance 5 tactics to ensure they hold onto their advertising business:
Conversions API (CAPI) is implemented alongside Meta pixel/SDK to provide more reliable connection between ads and consumer data, which could lead to a decrease in overall cost per acquisition (CPA).
Simplified ad sets align campaigns with Meta's best practices in consolidating ads/ad sets/campaigns to help improve cost efficiency and performance, leading to an overall conversion lift.
Broad targeting takes a holistic approach to widen targeting as opposed to refining smaller, niche audiences, which can help reach more potential customers.
Mobile-friendly video updates ensure that videos will catch the consumer's eye to drive conversions. This is important as 50% of all time spent on Facebook is used for video consumption.
Ad testing encourages A/B placements on creative, targeting or ad set structure to help distinguish winning strategies.
Meta is also offering branded content ads through Instagram. If a brand engages with an influencer (content creator), that person can give the brand permission to convert their posts into ads.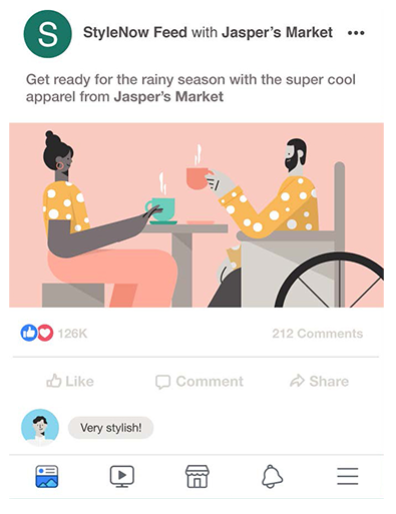 Image credit: Meta for Media, Branded Content
This capability can help brands reach a larger audience outside of traditional targeting as it uses influencer posts as ads to expand their current community. That unique creative can be a key factor in overall paid social strategy.
Another benefit is access to paid insights on branded ads which can be viewed in ads manager. Branded content/content creator ads are coming to Facebook in October of this year as it is a new, fast-growing format.
Tried and true benefits of Facebook
There are some proven benefits to Facebook that simply can't be ignored. This doesn't mean that brands should only use Facebook, as there are huge advantages to including other platforms in the mix, but it means that Facebook is likely a good place to start.
When it comes to time spent on platforms, Facebook continues to get the biggest chunk. Meta platforms Facebook and Instagram together garnered 42% of all time spent on social media in 2022.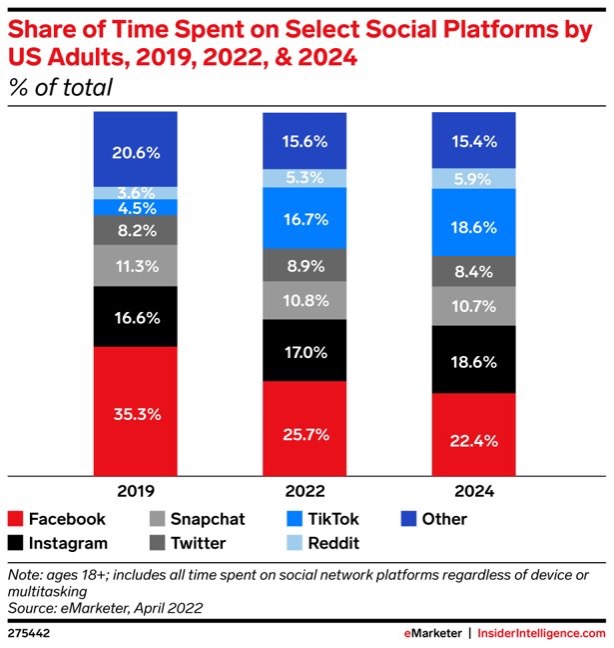 Additionally, advertising on Facebook is easy to set up, with clear ad solutions to various marketing goals and advanced settings through the ad manager. Several ad creative formats are available, and it has a varied range of targeting capabilities and facilitates various paths for customer engagement.
When it comes to retail, Facebook provides with highest return on ad spend (ROAS), bringing in an impressive $8.75 for every dollar spent. Meta platforms are second to none when it comes to tracking capabilities, giving visibility into each targeting approach and piece of creative.
A case for adding TikTok
While Facebook is still the leader when it comes to paid social media placements, there is a strong case for adding TikTok to the mix. To start, it is the third largest social media network based on time spent.
Also, TikTok provides a strong reach into younger demographics, with 90 percent of all users under 50, and 59 percent falling within the age range of 18-34 years old.
The short-form video platform has bolstered its advertising game, now offering TopView Ads, In-Feed Ads, Brand Takeover Ads, Branded Effects and Branded Hashtags, which all can help increase reach and engagement.
Is Snapchat still relevant?
It might seem like Snapchat has fallen out of the hottest social media conversations, but there is a still a place for it in several paid strategies. Unlike some of the bigger platforms, Snapchat focuses on smaller, tight-knit communities where brands are able to directly connect with target audiences, and followers are genuinely interested in the brand.
Like TikTok, it provides a sense of urgency with content consumption. It also offers creative editing, geo-filters and the ability for brands to communicate via messenger through text or with live video chat.
It's cost-efficient, which is a welcome strong point in a highly competitive space. Snapchat is known for reaching interactive shoppers that like to share their purchases with enthusiast communities. It also provides a variety of ad types including AR lenses and filters, making it an easy platform to align with campaign goals.
The right paid social mix
Most brands will need to rely on a multichannel strategy to reach their target audience effectively. This will allow for platform-specific creative to be posted to each site, embracing a variety of formats and ad options, providing multiple touchpoints to consumers and expanding awareness.
Finding the right paid social media mix will also maximize ROAS and help brands collect data on their target audiences, allowing for improved messaging development and targeting in future placements.
The social media landscape changes often and quickly, so it's a good idea to stay on top of platform news and updates to ensure that you're making the most of your paid social media budget.
---
Does your business need an agency partner? Learn how EXACTA MEDIA can help. We specialize in end-to-end media management from strategy through buy and optimization. Connect with our team of experts to learn more.