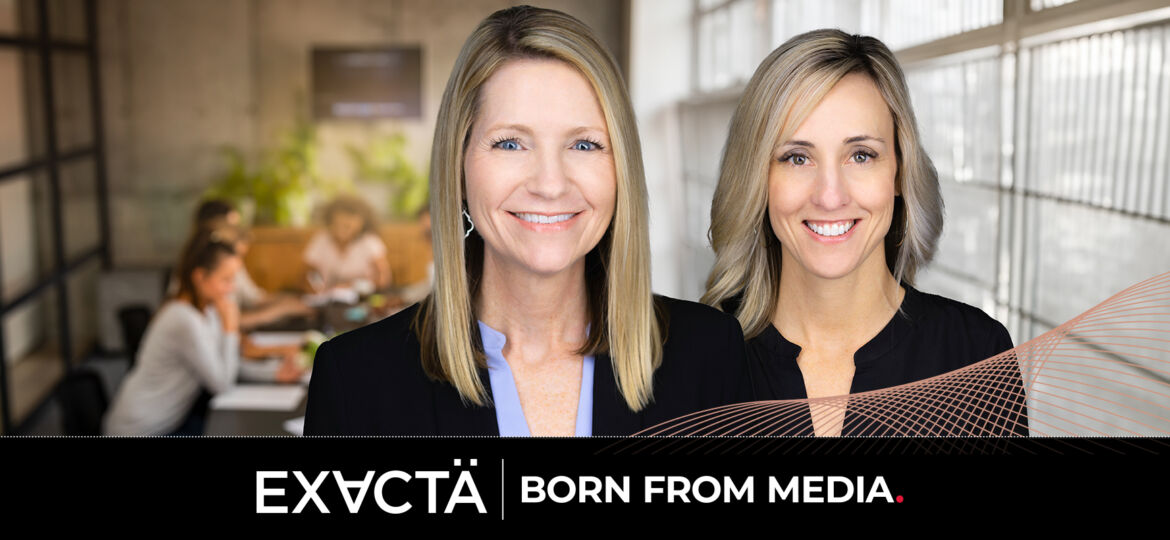 Hiring the right marketing firm not only comes down to finding the right strategic partner but what most companies don't take into account is the synergy between teams. Let's be honest, chemistry is everything!
To entrust your marketing budget to an agency means you not only have to feel confident in their skills but also know they have your best interests in mind. Two of our agency partners have seen this over their 20+ year tenure in the business and understand the value of relationships. At EXACTA, it's why we have dedicated account service and media teams. Let's meet two of our partners and get their firsthand account of why genuine partnerships are the real key to success.
Tammy Bailey
Executive Vice President of Account Service
Jackie Post
Executive Vice President of Media Services
How long have the two of you worked together?
TAMMY: Jackie and I started working together at our first agency over 20 years ago. We clicked almost immediately and established a great working relationship. Over the years, we have also become close friends which only enhances our working relationship. In fact, we have become so intertwined that one of our long-time clients has affectionately named us "Jammy."
What brought you two into your current roles?
TAMMY: I actually started out in media when I originally joined my first agency. Because my background was in the film industry at that point, I learned from the ground up and did all of the media coordination to really get a full understanding of performance marketing. I really enjoyed the media side but, after working my way up to a Junior Buyer role, our agency owner recognized that I may be better suited to work directly with the clients and managing their strategies. That was when I transitioned over to the account service team and never looked back. I truly enjoy engaging with people and I am a natural problem solver so combining those two skills, I knew this was the place for me. Having the media background helps me work strategically with each client.
JACKIE: I was always drawn to advertising but I really began focusing on media when working for an in-house department where I began media buying. From there I moved into an agency role and quickly realized the agency world was where I wanted to be. I found I enjoyed the variety of clients and the opportunity to create and execute unique strategies for each of them. At the time, my focus was on traditional channels, but I had to quickly adapt to the evolving world of digital. Over the last two decades the media landscape has been disrupted with emerging media channels, while others begin to sunset, but being able to gain knowledge in new areas and find innovative strategies that produce results is what keeps me growing and engaged in my role at EXACTA.
How does having the two different departments benefit your clients?
TAMMY: Most of our clients know they can always reach out to either one of us but separating our roles allows us to really focus on our core strengths and what we love. I enjoy developing strategic plans and working closely with both the internal teams and the clients to drive success. In turn, the clients know they can call or email me and I will be very responsive or in many cases, I have already reached out to them to address any concerns. I love seeing a campaign succeed and, ultimately, our clients win. I also love seeing the entire process come together as I work with my team to coordinate media placements, creative deliverables and detailed reporting on results.
JACKIE: When we started EXACTA we felt the most effective way to serve our clients would be to separate the departments and allow each department to focus on their specialty. With a dedicated account team our clients always have a direct line of communication, without delay, while allowing the media team to prioritize the planning, execution, and optimization of each media campaign. Ultimately, it helps provide the best service for our clients.
What sets EXACTA apart from other agencies?
TAMMY: When a client truly entrusts us with their marketing budget and sees the results we can deliver, they become partners that stay with the agency long term and aren't tempted to test out other firms.  They know our capabilities and how we can help them succeed and there is no reason to look elsewhere. They say the average account stays two to three years and while we have seen some of that, our core clients have been with us almost 10 years in many cases. It shows they not only believe in our talent but know we are the right people to be excellent stewards of their brands and their budgets. I think that speaks volumes in this industry.
JACKIE: A common theme we hear from organizations is that their agencies are not proactive. Media platforms, trends and performance are constantly changing so we know how important it is to be hands-on with all our clients and campaigns. We are a performance-based agency and to continually provide results for our clients we need to be seeking out new opportunities, refining current efforts and analyzing performance on an on-going basis. All clients want results and that is what we are great at delivering.
What is the key to maintaining these long-term partnerships?
TAMMY: First and foremost, we have to execute. Initial chemistry only develops into long-term relationships by providing a strategy that works. It also means getting in the trenches with the client team when challenges arise, whether marketing related or not. If we are a true extension of their team, it means every aspect of their business involves us. Once they see our level of commitment, most of our clients understand the real meaning of a valued partner.
JACKIE: Of course, there are a lot of factors that come into play but if I had to break it down it would be strategy, performance, communication, and mutual respect.
You both are working moms, too. How do you balance managing the agency while raising a family?
TAMMY: First, anyone who says they have found perfect balance as a working mom is not being truthful.  Let's just get that out there! My son was 3 years old and my daughter was 9 months when I joined the EXACTA team. It was a critical time for them, but I knew this was the place for the next step in my career. It's a constant struggle but as careerwomen, we know that we can have both. As managing partners, we lean on each other constantly and cover one another when our family commitments take us out of the office. It also means we try to instill the same work-life balance in our teams. During the summer months, we close our office at 12:30 on Friday to allow everyone time to spend with their loved ones and maximize the weekend. The rest of the year we close at 4pm on Friday as a bonus for working so hard all week.
I also believe that showing our kids that you can still have a successful career and a family sets the example that you don't need to choose one over another.
JACKIE: As the saying goes, it takes a village! I have been fortunate enough, personally and professionally, to have the support I need. And that support includes Tammy's exceptional memory, which I lean into all the time, having a solid team I trust, and a family that encourages me.
As a company, we have always advocated for balance between personal and work life and one of the privileges of being a partner is the ability to incorporate that philosophy into our culture. Time is something we never get back and as my kids get older, and college isn't that far away, I continue to acknowledge and value how important balance is.
How would you describe your management styles?
TAMMY: While we are alike in so many ways, we also balance each other out. We both don't like to micromanage. We build and grow our teams organically as much as possible so that we don't have to oversee every detail of what they do. I think this is so important to a successful agency. It also empowers our team to know they don't have to ask permission to complete their work efficiently and effectively.
JACKIE: I believe it is important for our team to have the knowledge and tools they need to succeed so I am hands-on in that respect, but I trust our team and strive to give them their own autonomy. Every individual has different needs so being able to identify those needs and accommodate them in a positive manner ultimately benefits everyone.
What keeps you at EXACTA?
TAMMY: For me, that's easy. Jackie, our CEO, amazing team, and our incredible clients. This business can be very cyclical but I'm so grateful for the relationships we have built over the years, including our own. I can't imagine finding a team that works in sync the way we do but also truly cares about the work we do for each client. I think that's such a rare thing to find authenticity mixed with true talent. When you find it, you definitely don't let it go.
JACKIE: I am very appreciative of what we have built over the last 18+ years. Undoubtedly, we have had our challenges, but we have had the freedom to structure and grow EXACTA to be in-line with our core principles and to serve our clients in a manner we can be proud of. And of course, the team and clients I have the pleasure of working with on a daily basis help drive me on this journey.
What would your clients say about EXACTA?
TAMMY: With a proven track record and solid foundation for long-term client partnerships, many of our clients have hired EXACTA multiple times as they have changed and evolved their own professional careers. One of the CMOs we have worked with for years has brought EXACTA in as her primary agency at several companies, knowing that we can execute and ultimately provide her with the marketing support she needs to be successful.

LESLIE GIBBS
Strategic Branding Matters LLC
CMO
As a CMO, I worked with the team at Exacta Media for 5 years across 2 healthcare companies. In both engagements, they were able to open up new customer acquisition streams using social and traditional media in a way that grew our customer base. The team there is extremely knowledgeable and collaborative. They are not there to sell media but rather to help find effective solutions and uncover untapped opportunities. I hope to work with them again soon.

---
Does your business need an agency partner? Learn how EXACTA MEDIA can help. We specialize in end-to-end media management from strategy through buy and optimization. Connect with our team of experts to learn more.