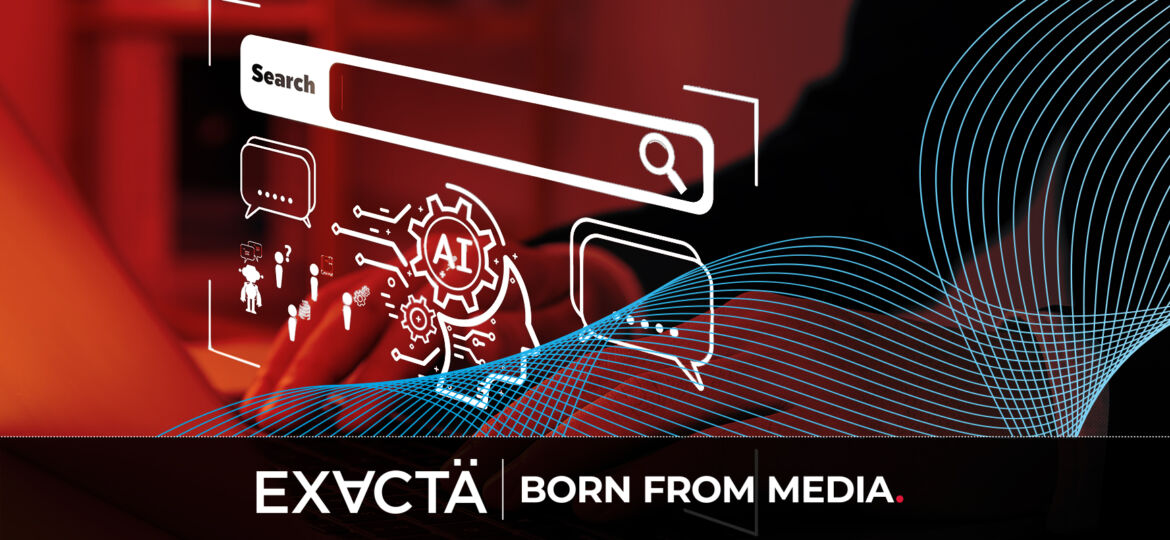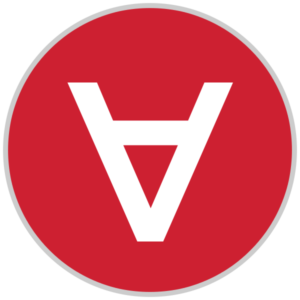 Insights from the EXACTA Media team
Google has become synonymous with search. So much so, that its verb-status isn't even notable anymore and is causally used to describe searching for information online even outside of the engine itself. However, Microsoft is attempting to gain a piece of Google's search share with an AI update to Bing.
The notion is that search as we use it is not effective and doesn't often deliver the answers people are hoping to find, leading them down an endless rabbit hole or to finally give up. With AI-backed integrations, search will become more comprehensive and efficient, allowing people to ask increasingly complex questions and get answers that are helpful and relevant.
Microsoft is first out of the gate
Microsoft made an announcement that they have incorporated OpenAI's GPT-4 into its search engine, Bing on Edge, and called it Prometheus. The AI program that fuels ChatGPT will provide Bing searchers using Edge some additional search info served on the side in a separate box. Prometheus will also provide original sources links to the information delivered, will facilitate users being able to ask more detailed questions and will provide a side search bar for easy multitasking.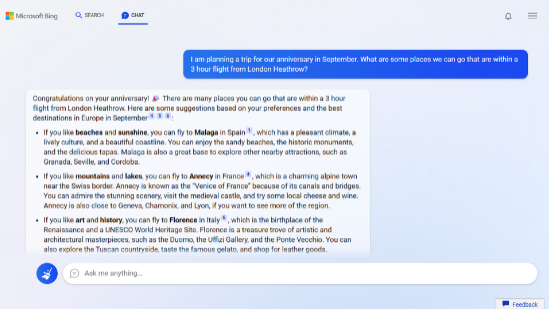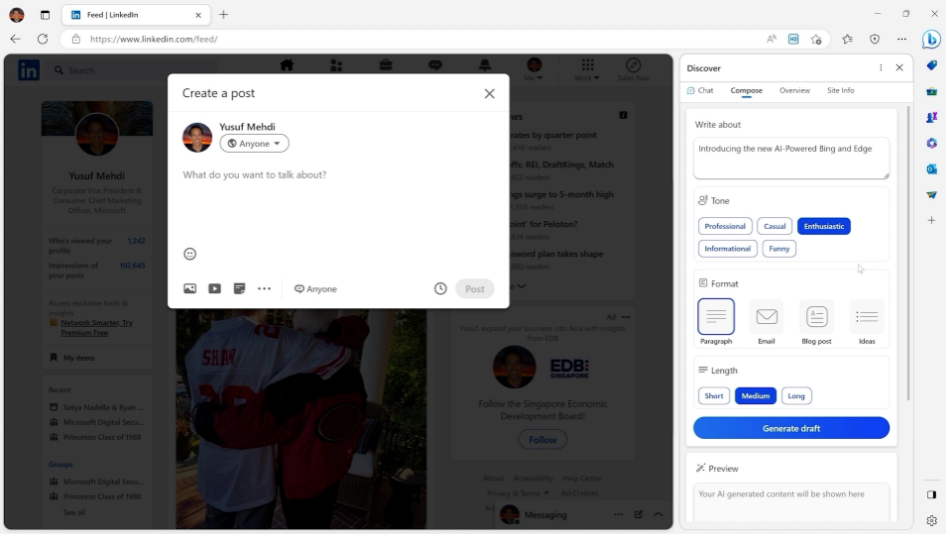 Images credit: Microsoft, Reinventing search with a
new AI-powered Microsoft Bing and Edge, your copilot for the web
Microsoft notes that Prometheus will provide four areas of advanced search:
Next-generation OpenAI model which is more powerful than ChatGPT and is made specifically for search.
Taps their proprietary Prometheus model for increased capabilities to deliver timely and relevant results.
Applies AI to their core search algorithms for even more accuracy.
Reimagines the user experiences by unifying search, browser and chat into one cohesive experience.
Google had a rushed reply
The next day, Google answered Microsoft's announcement with their own, the roll-out of the search giant's AI-supported search, called Bard. Bard uses Google's Language Model for Dialogue Applications (LaMDA) technology and was off to a rocky start. In its first public demonstration, Bard returned an inaccurate answer to a sample question, stating that the James Webb Space Telescope took the first picture of a planet outside our solar system, which was actually accomplished years ago in 2004.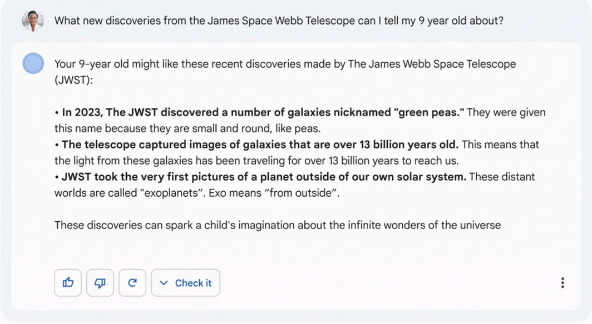 Image credit: The Verge, Google's AI chatbot Bard makes factual error in first demo
What does this mean for marketers?
Looking ahead, marketers need to monitor performance of both Prometheus and Bard, and keep track of any market share shift in favor of Bing. This will be vital for not only paid search placements, but also for how Bing taps SEO strategies for delivering results. Marketers will not want to leave their clients hanging when it comes to PPC placements or SEO executions. With AI search hitting these two major players, it seems reasonable to assume that this enhanced technology will also be incorporated in other marketing spaces, so that's something to watch.
Microsoft and Google have both acknowledged that this could affect safety online, noting that AI results or answers could perpetuate misinformation and data safety concerns. Marketers should look out for their client's brand safety to make sure that results that are being delivered or questions being asked/information that is shared is accurate. Social listening tools can help keep tabs on what's being shared about brands online, and might become integral moving forward in a world of AI-powered technologies.
Microsoft aims to dent Google's share of search
While both AI-enhanced search engines have just launched and consumer loyalties remain to be solidified, it's clear that Microsoft is attempting to unseat Google, or at least convert some of their massive user base. With Google's preview blunder, Microsoft has a window to capitalize on early adopters and snag some share of search traffic. Marketers will need to keep a close eye on performance, particularly of Prometheus, to see if any spend should be shifted to the Bard challenger.
---
Does your business need an agency partner? Learn how EXACTA MEDIA can help. We specialize in end-to-end media management from strategy through buy and optimization. Connect with our team of experts to learn more.